Landlord Gas Safety Certificates /
Electrical Installation Condition Report /
Watford - Herts Boilers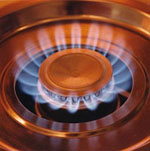 By law if you are a landlord you have to have the gas safety of your rented property checked by a competent gas engineer on an annual basis.
We offer Landlord Gas Safety Certificate service (LGSC, or LGC or called CP12) to Watford, St Albans and Hertfordshire. The price is fixed at £70 plus VAT all inclusive.
We will check all the gas appliances against relative HSE / Gas Safe guidance, British Standards and manufacturer instructions. For a gas appliance we will check the followings:
The effectiveness of any flue;
The supply of combustion air;
Its operating pressure or heat input or, where necessary, both;
Its operation so as to ensure its safe functioning.
We will also check gas carcass (meter and pipes) safety, although this check is a suggestion not a compulsory requirement by HSE.

We check gas safety up to standards - we don't overkill and don't overlook!
We can check a domestic property with its own gas meter plus a boiler, a cooker and a fire. We don't have warm air heater qualification so we can't carry on a gas safety inspection if the property has a warm air unit.
Banned Locations for Gas Appliances
Open flued appliances in bathrooms or shower rooms
Flueless appliances in in bathrooms or shower rooms
Open flued appliances above 14kW gross input in bedrooms or rooms meant as sleeping accommodation
Open flued appliances below 14kW gross input in bedrooms or rooms meant as sleeping accommodation if the appliance is not fitted with an atmospheric sensing device.
Charges
The fee is £70 + VAT for inspection up to three gas appliances, typically comprised by a boiler, cooker and fire. Then each additional appliance is for £20 more. If we need to travel between your rented property and a letting agents for key access, we will charge you £30 extra.
Relationship with landlords:
As one of reputable local boiler repairing firms we wish to keep a good and long term relationship with local landlords. We not only do general gas work, we are particularly specialised in boiler repairs. So let us do your gas safety check, and we will have a safety check on your boiler and keep your boiler details in file. Once in need we are in a better position to sort out your boiler problems in future.
As a landlord if the boiler in your rented property breakdowns you will be under pressure to get it fixed or replaced. We have no problem with old boilers, and as long as they are safe and functioning, we will do our best to make them up and running again.
New Legislation for Landlords since 01/07/2020
- How to Comply with new electrical safety regulations
The ESS regulations, in its current form, will impact private rentals in England only. The new rules will apply to new tenancies, (including renewal but not periodic) from 1st July 2020 and to all existing tenancies from 1st April 2021.
The Electrical Safety Standards in the Private Rented Sector (England) Regulations 2020
The regulation requires a private landlord to ensure that the electrical safety standards are met during any period when the residential premises are occupied under a tenancy, and that every fixed electrical installation is inspected and tested at least every five years by a qualified person.
A new inspection is not required for each tenancy agreement, so long as they are still valid and no more than five years old.
Legislation For Landlords 2015
- How to Comply with the Smoke and CO Regulations
http://www.legislation.gov.uk/uksi/2015/1693/regulation/4/made
From 1st October 2015, it has become a legal requirement that all rented properties will have to have smoke alarms and, if necessary, carbon monoxide alarms fitted.
A smoke alarm is equipped on each storey of the premises on which there is a room used wholly or partly as living accommodation.
A carbon monoxide alarm is equipped in any room of the premises which is used wholly or partly as living accommodation and contains a solid fuel burning combustion appliance.
We offer fire and CO alarm installation service for local landlords.
Electrical Installation Condition Report - EICR
British Standard 7671 18th Edition (2018), the current electrical installation regulation, says a domestic property should required its electrical installation safety checked not longer than every 10 years, which is dependent on previous inspection advise, or when change of tenancy.
There are two types of electrical installation condition reports. First one is a full report called Domestic Electrical Installation Condition Report - EICR, and second one is called Domestic Visual Condition Report. The conditions reports are used to called Periodic Inspection and Test Report - PIR.
The fee for an EICR is £150 plus VAT all inclusive.
We are a NICEIC Approved Contractor registered company and competent on domestic electrical installation inspection. Our reports are produced under the NICEIC schemes.
Portable Appliance Test - PAT (electrical)
In HMO (home for multiple occupancy) circumstances landlords might be asked to do safety test on portable appliances by an electrician on an annual basis. We are also qualified to do this test.