Customer Reviews
- Herts Boilers
Being a service company, we rely on the trust of our customers. We try our best to help local people who suffer from boiler or heating problems, and we treat all customers as the same as we hope to be treated.
We are competent on boiler and heating repairs, and we have more than engough work load to cope with. We have fixed and serviced over a thousand boilers each year, and we have also installed 40 plus boilers every year. As we know what we are doing, we really don't need to make anybody feel being ripped off, even if we are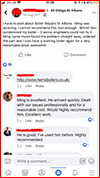 struggling on one or two particular boilers (very rarely). We will look after you.
Invited by us, or voluntarily, some customers have left their reviews to support our business, and we really appreciate their help. Up to August 2022, we have had the highest number of Google reviews among local gas and plumbing firms.
If you are a potential customer who is considering to employ us for your boiler and heating jobs, we are sure you will not hesitate to contact us after reading these reviews. And, we also hope you will add your experience here later.

Some customers don't use Google emails, and so they can't leave Google reviews. TrustPilot is the best third-party review site, as all our customers can leave their reviews.
You can also post your reviews, or make a discussion, on our Facebook page.
Some Reviews Received
Thomas James (St Albans, 03/2023, Google review):
"Ming is the sort of boilerman you need. A real no-nonsense guy who is professional, knowledgeable, honest, and very reasonably priced. I'm sure a lot of other "experts" would have tried to sell me a new boiler or some expensive parts by now. Not Ming! I have no hesitation recommending him for all your boiler needs.!"
Catharine Pusey (Redbourn, 08/2022, Google review):
"Ming is our hero! He was the fourth plumber that we called to resolve issues with our newly installed boiler. He was able to diagnose that an error by the original fitters had caused a relatively unusual problem and used his superior knowledge and research to give us a fully functioning system after six months of fruitless searching on our part. We could not recommend this business more highly!"
Sandeep Bermi (St Albans, 02/2021, Google review):
"Can't recommend Ming highly enough. 2 other gas engineers told me our boiler needed replacing for thousands of pounds. Ming diagnosed the problem remotely and came and fixed it on the same day for 70 pounds. The kind of honest tradesman that are so rarely encountered nowadays hence all the 5 star reviews."
Natalie White (St Albans, 10/2020, Google review):
"We couldn't recommend Ming more. When our boiler stopped working, we had another plumber look at it - who charged us a large call-out fee but failed to fix or diagnose the problem. Ming came on a Saturday morning, and fixed the problem in under an hour. He is obviously very knowledgeable about boilers, and is very honest and trustworthy. Thank you Ming!"
Richard Turner (St Albans, 09/2020, Google review):
"Really great service. Had a quick phonecall with the owner who walked me through possible solutions, which fixed the issue so he didn't need to come visit - no charge. Will use again."
John England (St Albans, 07/2020, Google review):
"Mr Ming arrived, diagnosed the problem in five minutes, had a spare part in his van, fitted it and all done in fifteen minutes, I had been waiting for over two months and three different plumbers , two didn't turn up, one wasn't sure what the problem was. Highly recommend Mr ming"
Preeti Chaudhary (Hemel Hempstead, 06/2020, Google review):
"Absolutely brilliant! After being messed about by 4 different gas engineers and spending nearly £500 I was at my wit's end. Mr Ming sorted the problem in few minutes and reassured me that I wouldn't have to replace my boiler. Thank you so much!"
Eva-Maria LANG (Abbots Langley, 01/2020, Google review):
"Mr Ming delivers an excellent service! Our boiler has been declared as too old to repair, various gas engineers messed us about and did not manage to repair our boiler. Mr Ming sorted the problem in no time and confirmed with us that the boiler was still functioning before charging us a very reasonable amount. Communication is very easy, best with Whatsapp and Mr Ming will always respond. I really appreciate Mr Ming's reliability and professional attitude. All in all, fabulous!"
Tom McGorrian (Winslow, Buckinghamshire, 09/2019, TrustPilot review):
"We needed a boiler engineer urgently and Ming came up on a Sunday to Winslow. Did a fantastic job considering it had been previously written off by other heating engineers."
Ann Lansdown (Hemel Hempstead, 03/2019, Google review):
"The boiler is as old as the house, 40+ years, hence being told by other engineers that it had to be replaced. This would mean ripping out the kitchen and digging up the floor to relocated it! Ming diagnosed the fault and knew that he could repair it, if only he could find a replacement for the obsolete part. He wanted to repair it just as much as we did. He posted a request for the part on an online forum and miraculously someone had the part in their tool shed from years ago. That kind person sent it to Ming who successfully repaired the boiler that nobody else would even consider working on. Ming worked a miracle and by doing so saved us a fortune (at least for now). Thank you very much Ming for your determination and perseverance in getting the boiler repaired. Highly recommended."
Emily Buller (St Albans, 12/2018, Google review):
"We woke up to no hot water the day before Christmas Eve! I know a bit about boilers and am generally quite 'handy' and in this instance I could see we needed a proper engineer with some parts requiring replacement etc. What a pain just ahead of Christmas. So, after a quick and panicked google search I found this local company with very positive reviews. I assumed an emergency call out at this time of year might be impossible and if it was possible it would likely be very costly, however I am delighted to say that we were squeezed in on Christmas Eve and the issues and parts were resolved within an hour, at a price which I was delighted by. It really is hugely refreshing in this day and age to find a true professional who's not out to profit from peoples misfortunes at this time of year! Ming was very professional and has a clear mastery of boiler systems. Having used people for various bits and bobs over the years, this was the first time in a very long time I've been genuinely impressed from start to finish and left feeling like I got great value, hence my desire to write this review. Highly recommended."
David Hollins (St Albans, 12/2018, Google review):
"Pilot light went out on my boiler and I couldn't relight it in the usual way. Called Herts Boilers who came out promptly and diagnosed a problem with the fan. Was advised it may need a new fan but before going down this route Ming took the fan apart, lubricated it then put everything back together. Boiler fired up and we now have heating again. I am so grateful as all this happened on 21 December and it was fixed before the Christmas break."
David Preston (St Albans, 12/2018, Google review):
"Ming came to the rescue after 4.5 weeks of no heating and hot water and being let down by other providers. We were told by a large provider's "experts" that we needed a powerflush at a cost of over £700. Ming fixed the faulty part and with labour, the cost came to £90. Very knowledgeable and explained everything that was going on. Worked in a very logical way to diagnose the actual cause and did not take the easy solution of a powerflush that other providers did without checking the whole system. Will be using again in the future. We have heat and hot water for Christmas when it did not look likely a few days ago!!"
Dave Watson (St Albans, 11/2018, Google review):
"Very professional. Knowledgeable. Logical. Honest. Efficient. Can't praise Ming enough. He's not interested in making money out of recommending parts not needed. He doesn't rely on phoning boiler makers help-lines. He's punctual, and realistic about time-scales. Ming fixed our boiler in 10 minutes, running through the possibilities which could be the problem, but before suggesting he comes back with a replacement part, cleaned, greased and checked all of the relevant parts and removed the blockage causing the problem. The boiler is also now quieter than it has been in years.
Ming also talked me through a few things I could do with some related issues on my own, so like I said, he's honest and fair. Very nice to meet him." 
Jeff Dawson (St Albans, 05/2018, Google review):
"My boiler packed up – an emergency with no hot water/heating, plus kids and an elderly disabled mother. Caught between my insurance company and their appointed plumbers/assessors who declared it beyond repair, I was facing a new boiler and at least £1,600. I searched Google and found Ming who came out at short notice (on an evening) and fixed it for £70! He even cleaned out the pipes, drainage and offered to write a letter to my insurers condemning these "cowboys". Ming is a star!" 
Patricia Marlow (Hemel Hempstead, 03/2018, Google review):
"After many visits and new parts, our first plumber could not solve our problem, but took our money! We found Ming's details on Google search and the man gave us amazing service, diagnosed and solved the problem. He was efficient and kept his word, saying no fee if he could not do it. Our system has never worked so well, despite its age." 
Paul (Radlett, 11/2017, TrustPilot review):
"It's rare to find such a clever and reliable person to help with the boiler. Ming is that rare fellow. He made time for us on the day of the initial call to diagnose the problem. He had to come back once again and incredibly, the boiler that I was told to replace (by a less professional plumber) now works well. Ming has given it a thorough service and replaced the parts that had worn. Total cost was a fraction of what I had imagined and it has been working perfectly since his repair. He is polite and respectful; he leaves the place spotless and he is a pleasure to deal with! I could not recommend him more highly and certainly, I won't let anyone else near my boiler again. AAA+++" 
Julie Coppola (St Albans, 08/2017, Google review):
"Ming saved the day, I cannot recommend this man enough. British Gas condemned my boiler - 3 senior engineers could not fix it. Ming came round found the problem straight away, ordered the part and I now have a working boiler again for a very reasonable price, awesome!" 
Simon Miles (St Albans, 08/2017):
"An excellent service from Ming. I had two quotes from local companies, one of £650 and another saying I needed a new boiler (over £4K); however, Ming came within 24hrs and fixed it in his first visit for £200. If you have a Powermax boiler (or any other) Ming is your man" 
Mark Saville-Herstell (Barnet, 05/2017, Facebook review):
"Got in contact with Ming Xu who inspected my boiler as other installers said I needed a replacement boiler. Ming said the boiler was in very good condition and could easily be repaired. I agreed and he repaired it for a lot less than than it would cost for a new boiler. Hopefully the repair and boiler should last another few years. - Thank you, you saved me lots of money."
Steve Bramall (St Albans, 05/2017, Google review):
"A first class boiler repair service from a good guy - highly recommended. When my boiler stopped working he came straight away, diagnosed the fault, talked through the options, gave me time to think, then repaired the boiler there and then. Didn't try to sell me a new boiler like others have done! He's polite, honest, knowledgeable and excellent value. Kept in touch afterwards to check all was well too."
Paul Rogers (St Albans, 04/2017, Google review):
"A number of heating engineers have declined to even look at my boiler in the past due to the model. Ming was at my house with ten minutes of my call to him. He knows the model of boiler very well, and located the source of the ignition problem within ten minutes. Ming undertook remedial work and had the boiler fully functioning within twenty minutes. Added to this, I found Ming to be very polite, he uses shoe covers on entering the house, and he did not charge me for the call out or his time at my house as he felt that he had not undertaken a significant repair as such (I have never experienced that happening before). I cannot recommend Ming highly enough, he will be the only heating engineer I call in the future."
Victoria Boneham (St Albans, 03/2017, Google review):
"After two weeks and three different trades men not being able to help me fix the problem I had with the two port valve for my boiler system, Herts Boilers came out the same day and fixed the problem within 15 minutes, at an extremely good price. I was really impressed and could not recommend them highly enough."
Raj Saini (Hertford, 03/2017, Google review):
"Ming is an excellent, highly skilled engineer.
Before Ming, so many heating engineers came around to fix my underfloor heating but none of them could fix it. They all had no clue and charged me for doing absolutely nothing.
Ming fixed the heating at a very reasonable price . He is the only genuine boiler expert I could find in Hertfordshire. Don't think twice and book him now. Highly recommended!!"
Amanda Hayes (Ware, 09/2016, Google review):
"Ming just saved us over £3,500 in ten minutes! Another company told me our boiler wasn't worth keeping, as it would cost at least £1000 to repair, and wanted to sell us a new one instead at a total cost of £3600. Quite a shock!

In contrast, Ming had one quick look, got the pump running again in no time, and charged a very reasonable £60. If it fails again, pump replacement cost will be around £100. I couldn't be happier! Thanks!"