Commercial Boiler Repairs
Herts Boilers offer commercial and industrial boiler repairs and servicing in St Albans, Hemel Hempstead, Hatfield, Watford and surrounding west Hertfordshire areas and in London.
We also offer commercial and industrial boiler repairs services in London at: http://www.londonboilers.co.uk/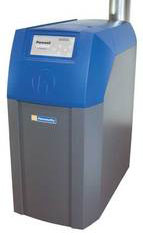 The engineering behind commercial boilers is not a rocket science. Commercial boilers are in just large scale and need to be robust and reliable, their operation principles are as the same as domestic boilers, sometimes even simpler than domestic ones. Once commercial boilers have been installed properly, they are not difficult to fix if breakdown.
Commercial boiler repairs are expensive for obvious reasons. We are a local company with commercial boiler qualifications and experience, we have ability to find the faulty parts in a commercial boiler or heating breakdown, and to get it fixed at an efficient way and at a competitive rate.
We are also electricians with commercial scopes so we understand boiler electronics and plant room control better than most of other commercial gas engineers.
What makes a boiler as commercial?
Being defined as commercial by its manufacturer, and

Being installed in a commercial building, and

Having large heat input and output (> 70kW)
Can a domestic gas engineer repair a commercial boiler?
No. Otherwise it will be working outside the scope, the severity of the offence is the same as an illegal working on domestic boilers.
Are there many gas operatives who can repair commercial boilers?
Only a couple of independent gas engineers in St Albans have required qualifications to repair commercial boilers.
Even for domestic boilers, probably one one is four gas operatives is competent on repairs.
Charges:
We don't do free call out for commercial boiler repairs.
We have a call out charge £120 for commercial boiler fault finding to local Hertfordshire businesses. We will then discuss the price for the failed parts and labour costs with customers. Even in commercial we still adopt a transparent pricing policy.
Mobile: 07944 168888 / Email: info@ege.co.uk
Telephone: 01727 537688 / Fax: 01727 537689
Address: 77 Batchwood Drive, St Albans, Herts, AL3 5UF