Eco Installation
Eco installation is generally referred to a whole system installation. If you want to keep your existing boiler but to upgrade with a modern control please read the "Heating Controls" section. 
A brief history on boiler evolution
After World War II, the western Europe started to use central heating systems in people homes. Households were getting water and gas supply into homes, and used a gas boiler to heat radiators and hot water cylinders.
The left photo is a Potterton Kingfisher floor standing boiler. Its flue is called "open flue", taking combustion air from indoor, so a direct vent hole to outdoor is a must.
It has a cast iron heat exchanger, the combustion efficiency is about 55%. The flue gas temperature can reach 150C, so there is an excessive heat loss. We call this type of boilers as SE boilers, Standard Efficiency boilers.
Don't get us wrong but if you have a similar boiler like this, we are not keen to persuade you to change it, as long as you are not concerned with your gas bill. Particularly more SE boilers which are still in running are wall hung one with fan flued type, the typical efficiency is about 60% to 75%. 
Eventually we have reached present stage, wall hung condensing boilers, HE stands for High Efficiency. These boilers take combustion
air from outside, and use a premix burner to get a nearly maximum combustion efficiency at around 90%, and a boiler can modulate its output power suitable to the requirement.
These flue inner materials for modern condensing boilers are made by plastic now, as the highest flue temperature will not exceed 100C.
That is about right now, we can't squeeze a lot more from a boiler now. A 85% to 92% efficiency is a realistic maximum achievement by a safe boiler combustion.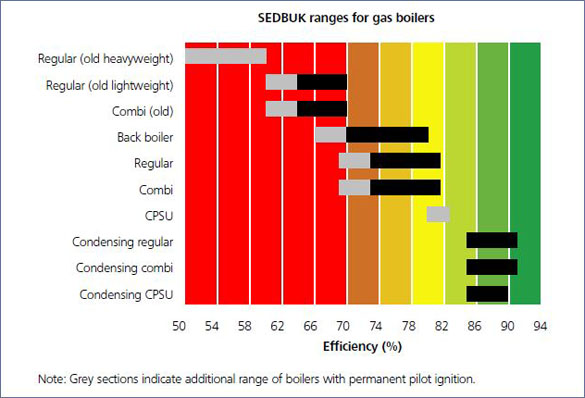 So the conclusion is to upgrade your old boiler to a modern condensing boiler to reduce your gas bill, up to 30% depending on what was your old boiler. This significant achievement should credit to boiler manufacturers, for their continuous efforts on heat exchanger design and manufacturing.
Eco installation
What is an eco installation? If you have already been quoted with a condensing boiler installation or replacement, is it eco?
An eco installation is achieved by these two steps: 1. Hot water priority with heating off. As hot water cylinders should be heated to over 60C to deliver good hot water with Legionella prevention. Modern unvented hot water cylinders are quickier on recovery so disturbance to heating is not noticeable. 2. Modulation control for heating, either by weather compensation or by OpenThem, while hot water charging is satisfied. This make boiler working at lower temperature not over 55C to make a boiler always run at its condensing model, to save further a few percentage of gas, and also make radiators lukewarm for longer time.
Modern boilers are all high efficiency types now, as we explained above at about 85% to 92% energy efficiency, and it has become even hard to achieve further more by boilers themselves, so the flue gas temperatures (between 50C to 75C) are still higher than ambient air temperatures, we still have some energy wasted. To further reduce this waste on a new or existing modern boiler is an eco installation, by adopting eco controls (heating controls) and by fine tuning on boiler settings to make this boiler (1) running more on condensing mode at near 92% instead of 88% efficiency, and (2) delivering a more comfortable heating output.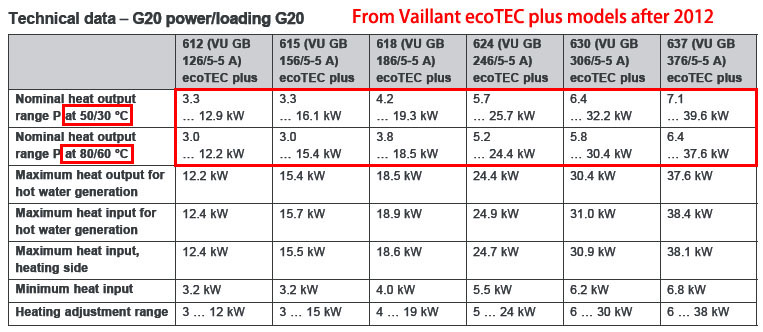 From above Vaillant boiler data we can see the difference, on a specific boiler, between running at non condensing mode (80/60C) and condensing mode (50/30C). The efficiency deduction at max rate is about 10% to be worse than 6% at min rate.
An eco installation will not save you a fortune! It is based on an modern condensing boiler's fine tune, and a realistic saving is about extra 3% to 5%, or you will not notice any gas bill difference at all. But it will definitely give you a more confortable heating with gentle and stable characteristics, and also reduce boiler's running stress levels.
Boiler Plus

From April 2018, new Building Regulation Part L has come into force. All new combi boilers will need a suitable heating control, not by an old style on/off stat, to save further energy on heating side.
It is a legal requirement so all installers have to comply with. To make it simple, it can be summarised as: 1. Install a boiler from current products, some of old stock will not meet the current requirements on energy efficiency. 2. Install a modern control (not an on/off room stat) with a new combi boiler.
Did you notice it so far, the Boiler Plus only has an effect on combi boilers, not on boilers with a separate storage hot water cylinders? That is because it is still bit difficult to distinguish a heating demanding from a hot water one.
Hot water and heating
In a typical household, about 1/3 gas consumption is for hot water, and 2/3 for heating in the winter.
Combi boilers deliver instant hot water. For systems with unvented hot water cylinders, to prevent legionnaires disease, the stored hot water temperature has to be over 60C. Either combi boilers or system boilers are less efficiency for hot water than heating, we can't do much about this at the moment. 

For heating, there is no need for emitter temperatures (radiators or under floor heating) to be higher than 50C. If a boiler can distinguish a heating demand from hot water one, once the hot water demanding is satisfied, the heating output can be modulated down at a low output and at lower temperatures to make heating more confortable, plus to save bit more energy, and prolong the boiler life span.
Vaillant vSMART controller:
Combi Boiler (package 1):
Vaillant ecoTEC / ecoFIT combi boiler + vSMART or VRT350(F)
*High end boiler from Vaillant
*Internet room stat with weather compensation control (vSMART)
*Load compensation programmable control (VRT300)
*Compact size for kitchen cupboard fitting (ecoFIT pure)
*Stainless main heat exchanger for ecoTEC range
*Low system pressure protection
Combi Boiler (package 2):
Baxi 600 series with uSense and IFOS
*Middle range boiler with stainless heat exchanger
*Internet room stat with weather compensation control
*Compact sizes for kitchen cupboard fitting
*Stainless heat exchanger for easy service and long lasting life span
*Low system pressure protection
*Available in 24kW and 30kW
*Manufacturer 7 year warranty
Vaillant boiler with unvented cylinder and one heating zone:

This is our bespoke system design for medium and large houses (one heating zone)
Vaillant ecoTEC 6 series system boiler + vSMART (open vent / system pack) + uniSTOR unvented hot water cylinder.
Also called megaflow, system boilers and unvented cylinders have been out for long on traditional on/off heating roomstats. This key improvement is the control strategy to make heating more confortable and economical.
Vaillant boiler with unvented cylinder and two or more heating zones:
This is the most sophisticated system design for super large houses with more heating zones.
Vaillant ecoTEC 6 series system boiler + VRC 700 (VR70) + uniSTOR unvented hot water cylinder.
So far only Vaillant can do this by their boilers, hot water cylinders and particularly their own controls (VRC 700 with either VR 70 or VR 71).
Viessmann Vitodens 200-W system boiler with unvented cylinder for hot water and one heating zone plus one UFH zone:
Viessmann Vitodens 200-W is a flagship boiler, in combi and system models. For such a good boiler it is better to use its system boiler instead of a combi.
Viessmann Vitodens 200-W system boiler with Viessmann unvented hot water cylinder, sub-mounting kit, controlled by Vitotronic 200 (HO1B, weather compensated), optional with Vitoconnect 100 (Vitotrol app)
*Industrial leading condensing technology
*Quiet operation thanks to low fan speed
*1:20 modulation range (35 kW)
*Easy to operate Vitotronic control unit with 5" touchscreen
*Control via app and internet (with optional Vitoconnect 100)
*Extremely easy to maintain
*UFH for ground floor and radiator zone for upstairs
Other compatible system boilers with modulation controls:
Vaillant is the only boiler manufacturer who has a full range of modulation controls compatible with Vaillant own boilers, ie, there is no necessary to have any third party controller, from Nest or Honeywell. This is one of reasons we quote for more Vaillant installs. 
There are other two boiler manufacturers, Viessmann and Intergas, to have good compatible boilers now, but sometimes they will still need third part controls, like Nest, Tado or Lyric from Honeywell.
Nest, Tado and Honeywell Controls:
As heating engineers we care more about the communication between controls and boilers. In our opinions it is always better to use the controls from the same boiler manufacturer, for example, vSMART with Vaillant ecoTEC boilers, Vitotronic 200 with Viessmann Vitodens 200 boiler etc.
Internet connectivity has little to do with boiler modulation controlling.