Boiler Replacement and Installation
Welwyn Garden City - Herts Boilers
Herts Boilers offer boiler replacement and installation in Welwyn Garden City, St Albans, Hertdordshire and London.
We repair boilers, thus we know what might cause a boiler to stop working, so on our boiler installs we tend to avoid any weakness to prolong boiler life expectation.  
As we said in the repairs section that boiler replacement is easier than boiler repairs, we also install boilers if it is necessary. We have a tracking record on boiler installation, in 2019 we installed over 40 boilers, ie, average one installs per week, and more than half of the boilers we installed are from Vaillant.
Being competent and honest on boiler repairs has lead us for more and more boiler installs / replacements.
We only install decent boilers!


In 2015 we were granted as Vaillant masterTEC elite installer - The very top grade of Vaillant accredited installers. Vaillant give the boilers we installed one extra year warranty. It is assessed by the loyalty, number of boilers installed, and rate for warranty call outs.
So we must have done something right with our boiler installations!
Vaillant ecoTEC plus (825, 832, and 838 combi boilers, 615, 618, 624 and 637 system) boiler with 8 year warranty
Vaillant ecoTEC 24, 28 and 30 pro with 7 year warranty
Vaillant ecoFIT 825, 830 and 835 pure with 7 year warranty
Gas Safe competency
To install a boiler the installer has to be on Gas Safe Register. Unfortunately in our repair practice we have seen so many cases where boiler installations are not up to standards leading to boiler's breakdown and even to un-safe situations. We are Gas Safe Registered, actually we are not only registered for domestic boilers, also registered for commercial boilers bigger than 70kW. We are very competent on boiler installation.
Electrical competency
We are also NICEIC registered electricians, Approved Contractor, from domestic up to commercial and industrial scopes. Boiler installations are also involved in electrical connection and controls, ie, boiler main's spurs, programmers, room thermostats, external pumps and control valves etc. We are in a unique position to fulfill the Part P requirements - the domestic electrical safety regulation in dwellings. We are probably the only firm in St Albans to have both gas and electrical competent scopes.
Beyond economic repairs
Herts Boilers are specialised in boiler repairs, but sometimes we consider a boiler beyond economic repair if the cost of the repair is unrealistically high compared to the life expectancy of the boiler. As a rule of thumb £150 should give the boiler at least another year of life.
High efficiency boilers
From 2005 all new boilers installed in the UK have to be condensing type, ie, high efficiency at around 90%, or called A rated, compared with casting iron type boilers which is only around 55% in efficiency. A high efficiency boiler will save you gas consumption in the long run.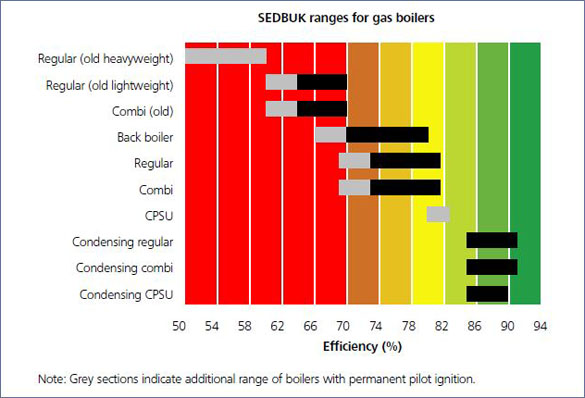 An Energy Saving Case Study – By Boiler Replacement
UK Boiler Energy Efficiency Database
Correct sized boilers
To select a new boiler it has to be correctly sized, not under and not over. We will calculate all the radiator heat outputs along with hot water requirements to choose a correct sized boiler for the purpose. Rule of thumb, It is 100W for per square meter (or 40W per cubic meter), for a 100 square meter house, the heating side should be given 10kW.
Should a new boiler be always a combi?
Combi boiler is a great invention but it is not always right to go for a combi. We will give you unbiased suggestion for a new boiler with heating and hot water system.
We also install system boilers for Megaflow systems and heat only boilers for vented systems.
Boiler warranty
If a boiler is installed by a Gas Safe Registered engineer up to the standards, it will normally be under manufacturer warranty for a few years. Herts Boilers is an approved installer for the following boiler manufacturers (at the time of writing on Oct 2016):
Vaillant - 7 years and 10 years
Glow worm - 5 years and 7 years
Viessmann - 5 and 7 years
Baxi / Potterton / Main - from 2 years to 10 years
Ideal - from 2 years to 10 years
Once we registered an installation with the manufacturer, they will give the client up to 10 year labour and part warranty.