Boiler Blog - Herts Boilers
Boiler and Heating Technical Blog
1. "My boiler is lossing pressure, and my engineer found this!"
It is on a Ideal Logic boiler, someone sent us this video:
After opened the top burner, this aluminium heat exchanger is jetting water to the boiler ceiling through a pin hole. Obviously this heat engine was replaced late, an expensive job through.
(Last edited on 09/05/2021)
2. Radiators in added extensions
For a newly added extension, it is very common that builers T off new radiator connections from a nearly existing radiator's flow and return, instead from main backbone. This offen causes radiators in externsions are not as hot as others.
(Last edited on 09/05/2021)
3. Ceiling lights in a bathroom without RCD protection, is it C2 or C3?
It all the ceiling lights are higher than 2.25m in a bathroom, these lights are not in the special location (zone 0, zone 1 and zone 2), so general and non-bathroom rules should apply them, hence it is C3 not C2.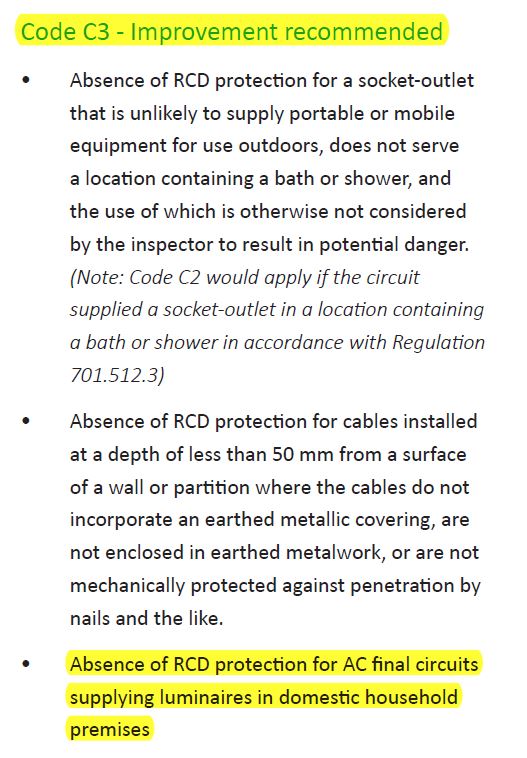 (Last edited on 10/05/2021)
4. What is the correct hot water temperature setting on a combi boiler?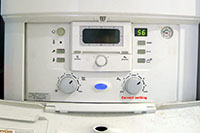 It should be 100% or at least about 70% to 80% of the full scale. Hot water on its own will give burnt hot water which one can't take shower directly, and a portion of cold water is also added at the tap or shower to give a suitable and stable temperature mixing for showering or washing.
Particularly on old combi boilers, it isn't always stable if you set hot water temperature at the boiler to about 30% or so. It often gives a hot and cold temperature cycling.
So the correct way is to set hot water at combi boilers to its full or high, and get hot water mixed with cold water at the tap, for a stable hot water output.

(Last edited on 13/06/2021)
5. I have an unvented hot water cylinder, should I time the hot water on periods to save a bit of gas?
A modern unvented hot water cylinder (white hot water storage tank normally in upstairs airing cupboard) is very energy efficient. That means, it has very little heat loss while storing hot water. It is also not as warm as before in the airing cupboard compared with an old type of vented hot water cylinder.
When hot water temperature reaches 60°C to 65°C degree inside the cylinder, the boiler stops heating hot water, no gas is wasted even hot water is still on at the programmer.
Total amount of energy being used for hot water is mainly determined by how much hot water your family has consumed, not by the on and off time.
(Last edited on 17/07/2021)
6. For a hot water cylinder, what is the correct temperature setting?
It is 60°C to 65°C. There are two reasons:
At this temperature legionnaire disease bacteria will not survive. This is also a building regulations' requirement.
Hot water at 60°C can't be directly used in most cases as it is burnt hot. It is designed to add another portion of cold water to make water temperature to suit washing and showering. In such case, you get more amount of meaningful hot water.
So it is wrong to set cylinder stat to 45°C.
(Last edited on 17/07/2021)
7. Turn your immersion heater on for hot water while waiting for boiler being fixed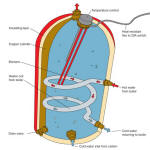 There are four major heating / hot water systems in this country:
1. Vented or open vented system (head cisterns in loft space)
2. Combi boiler system
3. Un-vented system (Megaflow, with pressure gauge)
4. Thermal stores (Powermax or Gledhill cyinders)
If it is a combi boiler, you have to wait for the boiler to be fixed to supply hot water again.
But if your home has one of other three systems, you might have an electrical element called "immersion heater" to heat up hot water inside your hot water cylinder or thermal store, which will give you hot water but no central heating.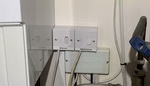 The left picture is a typical immersion heater switch. It is usually off, so you need to switch it on for hot water backup.
There are three reasons for immersion heaters only being used while you have a boiler breakdown: 1. electrical price is expensive than gas. 2. immersion heaters are less powerful than gas boilers. And 3. you don't want your boiler pump or fan seized after a whole summer.
(Last edited on 23/07/2021)
8. Do I need a new 38kW boiler?

It depends on the boiler type. If it is a combi boiler, the answer might be a yes, as instantaneous hot water from the boiler is requiring a high consumption of gas burning.
But if it is non combi boiler, eg a heat only boiler or a system boiler, the system has a storage hot water cylinder, the hot water is pre-heated by a mild power of the boiler output, so the calculation is adding 3kW to 6kW for hot water cylinder on top of heating requirement.
For heating calculation, it is important that one don't count the number of the radiators, it is the heat loss of the house which matters!
Rule of thumb, we need about 10kW for a 100 square meter house, for such a size house, we need a system or heat only boiler of 16kW.
The calculation is: (a). for old houses without modern insulation, each square meter of the floor plan needs about 0.1kW. (b). for modern houses or flats with good insulation, each square meter only needs 0.04kW.
Incompetency of heating engineers is often shown by wrong calculations. Over sized boilers will not only cost more to purchase, also need bigger gas supply pipes. More importantly, it often causes boiler to cycle, hence reduce its lifespan.
(Last edited on 16/08/2021)
9. Megaflo unvented cylinder - how to re-generate an internal air gap?
(Last edited on 27/08/2021)
10. When I turn on my central heating, it is not on, what are the possible causes?

Firstly if you don't have hot water either, it is likely the boiler is faulty. Try to note down any error code or faulty lights and call a boiler breakdown engineer, after a check thant you don't run out gas at a pre paid meter.
If you still have hot water, it is sometimes that boiler is fine but one of following heating controls is in need of attention.

Make sure the boiler has a right system pressure, if it is a combi or a sealed system, press here for a top up method by Herts Boilers. Most of combi boilers have an auto stop mechanism if the system pressure is low but Worcester and Viessmann boilers don't have this protection.

Some modern boilers have a sophisticated control strategy. The left picture is a latest Glow worm combi boiler, you need to turn heating on at the facial for heating, although heating on is a default setting. We did have some call outs in which tenants had played with boiler setting and ended up with Glow worm boiler heating off (no radiator symbol).

Turn your heating knob at the boiler to a position around 80% to 90% of the full scale, ie about 60°C to 70°C. For a traditional on/off control, it is a big no to set heating output at the boiler to lower than 40°C. Some boilers now have re-commendation position marked with a reference (E) or physical stop.
Turn heating output at the boiler to 60°C to 70°C as mentioned above. Some newish boilers (Worcester etc) have button type control input, only until you press them otherwise you don't know what the setting it is. If you set it heating here at 30°C you will never get your heating on.

Check if you don't run out batteries on RF room stat (radio frequency or wireless). After a long summer and after a long period of connection loss, you might also need to re-bind the stat with receiver again. Find stat's manual, a paper based one or get it by a Google serach, and do it yourself if you can. We will charge a callout if we make this kind visit.
Other than above five, you will need to call a heating engineer in.
(Last edited on 04/10/2021)
11. An air lock, can it be settled down after a few days?

Most of air locks are caused by wrong installation from day one, eg, vent pipes have long horizontal runs or there aren't auto air vents at the highest points of the systems. Once you drain the system down and refill, you might get an air lock which is not easily be vented out.
But very likely, an air lock will be cured itself after a while, say after one or two days of continues pump running. Eventually air will go inside upstairs radiators and stay there, so you don't have an air lock any more after day or two.
(Last edited on 26/11/2021)
12. Emergency boiler repair callouts, are they worth anything?

Unless you have a water leak or gas leak, otherwise a weekend or evening emergency callout for boiler breakdown might not be worth as much as you thought.
Generally emergency call out engineers are those who might not be very good on boiler repairs, but those who are working hard to earn out of hours rates. More than a half of gas engineers are installers and so they are struggling on boiler repairs.
Good and competent boiler repair engineers have about a 50% first time fix rate with an organised van stock, they often need to come back again with new part or parts from merchants which are only open weekdays and daytimes.
So our professional suggestion is - think twice before you call an emergency engineer for boiler or heating breakdown. If it is a water or gas leak, you just turn off water main stop cock or gas isolation valve at the meter for the time being.
(Last edited on 13/06/2022)
13. Are combi boilers more efficient then other types of boilers?

No! all modern boilers of three common types are the same in efficiency. They are in the range of 88% and 92%, by condensing technology used in current boilers.
Some gas engineers prefer combi boilers than others, but it is not necessary to say combi boilers are more efficient than other types of boiler, eg, system boilers and heat only boilers.
(Last edited on 09/03/2022)
14. My boiler isn't lighting up, what is the first thing to check?

The first thing to check is make sure you have gas supply to the boiler. It sounds simple, but many times we were called out to find there are no gas to their boilers!
Belows are some basic checks before you call a gas engineers:
Write down any error code if there is one on boiler display or faulty lights then reset, or switch power off and back on for your boiler and controls.
Check boiler or system pressure, it should be above 1.0 bar.
Make sure not run out gas at the meter.
For a radio frequency stat, check and replace batteries, and re-pair stat with receiver if necessary.
(Last edited on 20/07/2022)
15. Boiler manufacturer fixed price repairs
All boiler engineers know this trick, but few of them will tell customers about this!
If you have a boiler breakdown as followings:
The boiler is less than 10 or even 15 years old so the boiler manufacturer is still happy to cover this model.
The problem is within the boiler, not at an external pump or valves etc.
The boiler is out of warranty, of course.
A local independent repair engineer has quoted a price for more than £400.
He or she doesn't offer no fix no fee.
Then you are suggested to contact the boiler manufacturer to get their repair team out for a fixed price repair at about £300 to £350 inclusive. This price is capped, regardless how many parts they use and how many times they visit.
The engineers from all boiler manufacturers are competent on their own boilers, and they carry on common parts as van stock, so they have a good first time fix rate.
You are also suggested only go for boiler manufacturer own team (direct employees), not their sub contrators. Sometimes they might suggest you go for one of their sub contractors like Domestic and General etc. Boiler manufacturer own engineers are far better on quality, as all other sub contractors are eventually getting jobs done by local independent gas men or women, who are less competent than manufacturer's engineers for sure.
If it is Herts Boilers who diagnosed the problem and suggested a customer go for boiler manufacturer fixed price repair, Herts Boilers will charge a diagnostic fee of £60 + VAT.
(Last edited on 06/04/2022)
16. Installers or repair gas engineers?
More than 50% of gas engineers are installers not boiler repair engineers. These installers are either struggling on boiler repairs, or are only interested in big money from boiler installs, so they often tell customers that their breakdown boilers are better off with new boilers.
Unfortunately this is a common problem now and we can't see any improvement trends.
The facts are as followings:
Someone else can still repair this boiler, but probably one out of five local engineers is good on boiler repairs.
Most of boiler parts and spares are ready available from merchants.
British Gas are more competent on boiler repairs than local independent engineers.
Boiler manufacturers offer fixed price repairs on their own boilers at about £300. It is a capped price which includes parts and labour.
So as a customer you do need a second opinion on your boiler repair, if the very first gas engineer told you a boiler replacement is the only option, your boiler might still be repairable. If a £150 repair bill can give a boiler another year running or so, it isn't beyond an economical repair.
(Last edited on 06/04/2022)
17. Why my hot water temperature is too high?
For vented and unvented hot water cylinders, it is probably caused by a false temperature reading at their cylinder stats.
The correct setting for boiler output temperature is at around 70°C, and cylinder stat at 60°C.

In a hard water area, as time goes on, the scale might form a layer inside the cylinder wall, and the reference temperature at the cylinder stat is probably about 10°C to 20°C degrees lower than actual temperature at the top exit.
Heat is also rising. Inside a cylinder, it is not unusual that the temperature at bottom of the cylinder is lower than the temperature at the top.
This false tempeature reading is noticed by a constant boiler and pump run for this endless demand from the cylinder stat, and this is often ended up with a higher gas bill.
The solution is either to replace old cylinder with a new cylinder, or reduce the temperature setting at the cylinder stat.
(Last edited on 28/04/2022)
18. My hot water temperature from combi boiler is temperamental, what is likely the cause?

Most likely this is by a blocked hot water heat exchanger. But before we jump into this judgement, make sure you adjust these two settings at the boiler first: 1. put hot water temperature setting on combi boiler to its 80-90% of full scale. 2. Increase heating dial to a 80-90% position of the full scale. The reason for doing so is listed at above Q&A no. 4.

This picture shows a typical blockage on a hot water heat exchanger, the top hole (hot water out) is normal, but the bottom hole, the primary flow from the boiler, is almost blocked.
The typical symptom is hot water temperature is not stable, e.g. hot to cold and to hot again. When boiler is overheating by a restriced heat exchange, it will stop combustion for a while, then it is cooling down and will start the cycle again.
To fix this problem, the hot water heat exchanger should be replaced with new one, or possibly cleaned by chemicals. Also this problem is likely to come back again, if you don't give your radiator system a good cleaning, eg, do powerflush then add a filter.
(Last edited on 16/06/2022)
19. Internal air gap inside an unvented hot water cylinder, is it better tthan an external expansion vessel?

To cope with the expansion of the hot water, all unvented hot water cylinders must have a way to deal with this expansion when hot water is being heated, normally it is a by an external expansion vessel, usually in white colour next to the cylinder. The expansion vessel is pre-charged with air at around 3.0 bar, and it should be checked and charged every a few years.

But a few of cylinder manufacturers, Megoflo and OSO etc, are doing this by another design – an internal air gap. This design makes a little bit easy for installation, and saves some space for not having an external vessel.
But by our repair practice, the external expansions are still better than internal air gaps, as these gaps are often depleted and in need of a frequent re-generation.
(Last edited on 22/05/2022)
20. External expansion vessels, who is responsible for their checking and air charging?

There are two types of external expansion vessels, one (most of them are red) for sealed heating systems and another white or blue for unvented hot water cylinders.
It is a boiler service job to deal with heating expansion vessel, and a cylinder service job to deal with hot water expansion vessel.

(Last edited on 27/05/2022)
Herts Boilers also maintain this blog site: http://www.boilerblog.co.uk/